Since Juneteenth has been declared a federal holiday at the same time that many states are banning critical race theory in public schools, it seems like we'll have to take our education on the topic into our own hands for now. A good place to start that self-education is with the first-hand accounts of slavery that were published during the time.  
The slave narrative is one of the earliest genres of African American literature, dating back to the 18th century and playing a central role in the rise of the abolition movement in the 19th century. In a 1946 dissertation on the genre, Marion Wilson Starling counted over 6,000 narratives written by Black people who'd escaped slavery. Roughly 200 of these saw publication. Those that did were often widely successful, selling many thousands of copies and igniting widespread criticism of the hitherto unchallenged merits of slavery across the country.
Unquestionably, there is power in their narratives. To tell your story, whose very truth is a condemnation of the society in which you're telling it, is an act of incredible courage. To tell your story is to take control of the narrative and to refuse to be spoken for. To tell your story is to proclaim your right to be heard. The almost instant popularity of these narratives confirms that power.
The authors of slave narratives did not simply record factual accounts of their lives, however. While most slave narratives were autobiographical and true, they were told using finely-honed storytelling techniques and literary devices that made their autobiographies resonate with an audience that would, for the most part, not have had any first-hand experience with the subject.
For example, many narratives followed a similar arc: beginning with vivid descriptions of grueling labor and abuse at the hands of slaveholders and then recounting the individual's daring escape and triumphant journey to freedom against all the odds. Finally, they often ended with a commitment to help lift others out of the hell-on-earth that the narrator had escaped.
Many Americans, then and now, similarly viewed the nation's history as one of escaping oppression and, against all the odds, defeating their oppressors to attain freedom. In framing the narrator's journey firmly within that American imaginary, these slave narratives declared that Black people, too, were Americans with the same hopes and aspirations, the same dream of freedom. The stories resonated, selling tens of thousands of copies and going through multiple printings, becoming so widespread that a system that was once viewed by white Americans as a "natural order" or an "unfortunate necessity" soon became intolerable.
This is where the power of slave narratives lays.
The political motive of these narratives is clear in the literary conventions that Black writers formed as the genre progressed. However, in the process of translating raw trauma into literary form, a survivor of slavery had to place themselves back inside those painful memories, to relive those horrors each time they sat at a desk to write or stood on a stage to speak.
So, as you read these narratives today, it's important to keep in mind the psychological effort it took to create them; to experience the brutality of slavery and finally escaping it, only to sit down to pen and paper and revisit those horrors; to try to turn the chaotic flashes of traumatic memory into a cohesive, sensible narrative with a beginning and an end; to then go on tours around the country to recount your trauma to audience after audience, often being asked afterward to show the scars on your body as proof of your story.
It took strength to survive in antebellum America and it took to strength to tell these stories. Here are some of the strong men and women whose courage in storytelling helped usher in the end of chattel slavery in America.
Narrative of the Life of Frederick Douglass, an American Slave
Before becoming one of the most important figures in American history, the prominent abolitionist and social reformer Frederick Douglass was born into slavery in 1818 (or thereabouts). His autobiography, Narrative of the Life of Frederick Douglass, an American Slave is considered a classic of the slave narrative genre. His persuasive and eloquent voice comes through just as sharply in writing as it did in the public speeches that helped Frederick Douglass gain so much political influence at the time.
His narrative opens with an admission that he does not know precisely when he was born, nor who his father is, and has only seen his mother a handful of times. The impact of opening an autobiography with a statement on the impossibility of really telling your full story is a profound one. Douglass goes on to explain to readers that this detachment from his roots was not unique. His experience of being torn from his mother, of being deprived of family and heritage, was done intentionally and systematically to enslaved people as a means of making them feel alienated and alone.
From these uncertain origins, Douglass recounts his 20 years spent in slavery before he finally escaped to freedom. While he describes the basic journey of that escape, he intentionally leaves out any details that would allow slaveowners to thwart other enslaved people's escapes.
12 Years a Slave by Solomon Northup
Recently made into an Oscar-winning movie, 12 Years a Slave is the true account of Solomon Northup's life. He had actually been born free in New York in 1808 but, in his late 20s, was drugged, abducted, and sold into slavery in Louisiana where he spent, as the title suggests, 12 years in slavery before finally winning back his freedom in court.
As a story told from the perspective of a man who'd been born into freedom, 12 Years a Slave is unique in that it acts as a sort of outsider perspective: slavery as told by someone who had not been conditioned from childhood into submission and, thus, had not been forced to normalize the experience of bondage.
In addition to detailing his own suffering, Northup also writes about the enslaved people he meets on his journey. Most notably, however, he does not write about them as pitiful creatures, but with a sense of admiration of their resilience, their skill, and their culture. The circumstances they've been forced into are tragic but the people themselves are unbreakable.
Narrative of William Wells Brown, a Fugitive Slave
William Wells Brown was one of the most prominent literary figures of the 19th century and a devoted abolitionist throughout his life. Published in 1847, Narrative of William W. Brown, a Fugitive Slave was his first book and his contribution to the slave narrative genre.
He tells his life story, from being born on a plantation in 1814 to an enslaved woman and a white man to living for 20 years in slavery until, after two failed attempts, he finally made it to Canada in 1834. Throughout his account of these decades, Brown is unflinching in his portrayal of the hypocrisy of the slaveholders who kept him in bondage and reveals how he found strength through humor as he recounts episodes in which he used trickery to outwit slave traders and masters—episodes that recall the old stories of the mythical folk hero, High John de Conquer. After escaping, Brown pursued his own education while working on a steamboat, helping to conduct other enslaved people to freedom.
After writing this autobiography, Brown would go on to travel overseas, writing novels and travelogues of his experience in Europe. More than just the abolition of slavery, Brown fought tirelessly to restore dignity and pride to the Black diaspora by challenging the myths of Black inferiority through his research on African history.
Incidents in the Life of a Slave Girl by Harriet Jacobs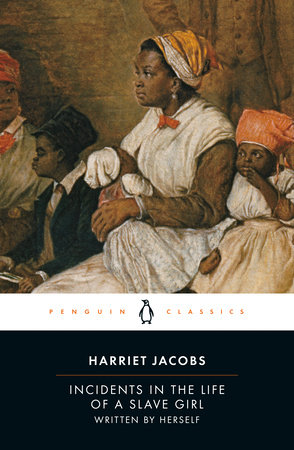 Harriet A. Jacobs published this autobiography at the dawn of the Civil War. Incidents in the Life of a Slave Girl was one of the first full-length slave narratives about the unique experience of women in slavery. As such, it was one of the few first-hand accounts of the rampant sexual exploitation of enslaved women. While male authors of slave narratives had mentioned the sexual abuse that enslaved women were subjected to in passing, Jacobs's autobiography was one of the first to speak so frankly and extensively about it and to really impress upon readers how pervasive and widespread that sexual abuse was.
Jacobs's narrative stands out not only for its vivid accounts of slavery, but also for Jacobs's unique confessional style. In addition to describing years of sexual abuse, she tells readers about the inner conflict she endured as she used her sexuality to gain protection and the elaborate schemes she had to construct in order to recover her children—fathered by a white lawyer she'd been having an affair with, who'd promised to emancipate the children but ultimately broke that promise. She is vulnerable, honest, and writes with a sense of guilt and shame that makes reading this narrative all the more heartbreaking.
The Portable Nineteenth-Century African American Women Writers
Spanning the whole of the 19th century, The Portable Nineteenth-Century African American Women Writers includes narratives written both before and after the Civil War. Henry Louis Gates, Jr. and Hollis Robbins edited the book with the hope of compiling the most comprehensive anthology of Black women's voices from this time period.
The anthology includes letters, transcriptions of speeches, essays, poetry, plays, fiction, and every other genre of writing, giving readers a wide view of the landscape of African American literature during the period.
The dozens of shorter slave narratives included help expand the historical record of enslaved women's first-hand accounts of what they went through. The critical essays on education and social reform are also fascinating to read, as they're filled with progressive ideas about the importance of critical race theory and intersectional feminism—all written hundreds of years before either of those concepts would be given a name.
The Underground Railroad
First published in 1872, The Underground Railroad technically didn't appear until after the Civil War. However, the collection of letters, memos, biographical sketches, and other archival documents written by escapees and members of the covert resistant network that came to be known as the Underground Railroad all predate the war.
The collection was put together by William Still, a conductor on the Underground Railroad who helped as many as 800 people reach freedom. Throughout his years as a conductor, he meticulously collected these letters and notes, hoping to create a lasting record of one of the most successful resistance movements in American history.
In the preface to the collection, Still explains that his intent in publishing this was to inspire Black Americans—who were then witnessing the birth of Jim Crow laws and the reality that emancipation from slavery was far from the end of their fight—to keep up the resistance and to find strength in their ancestors who had overcome the odds and overthrown a system of bondage that had been in place for over 400 years.
"The race must not forget the rock from whence they were hewn, nor the pit from whence they were digged," Still writes in his call on the Black community to remember the courage of their ancestors and to find that same courage in themselves.
For more reading recommendations to fill out your own personal critical race theory education, check out these books by immigrant authors and these books by indigenous authors for some additional dimensions of American history as told from these important perspectives.