Content warning: This article mentions fictional depictions of suicide, self-harm, and, depression. If you are uncomfortable with any of these topics or they are likely to put you in emotional distress, please be advised that it may be in your best interest to not read this article.
Doki Doki Literature Club! is still going strong five years after its release in 2017. Developed by Team Salvato, this innocent-looking indie game made waves in the horror video game genre with the way it completely subverted typical expectations of horror games.
Doki Doki Literature Club!, which is sometimes shortened to DDLC, uses a visual novel format to convey a story revolving around obsession, mental health issues, and the existential horror of a character in a game realizing they aren't real.
The game's combination of cute anime aesthetics and a K-On!-like premise boosts its horror factor effectively. One moment, you're enjoying conversations about school events and poetry with the members of the literature club, the next…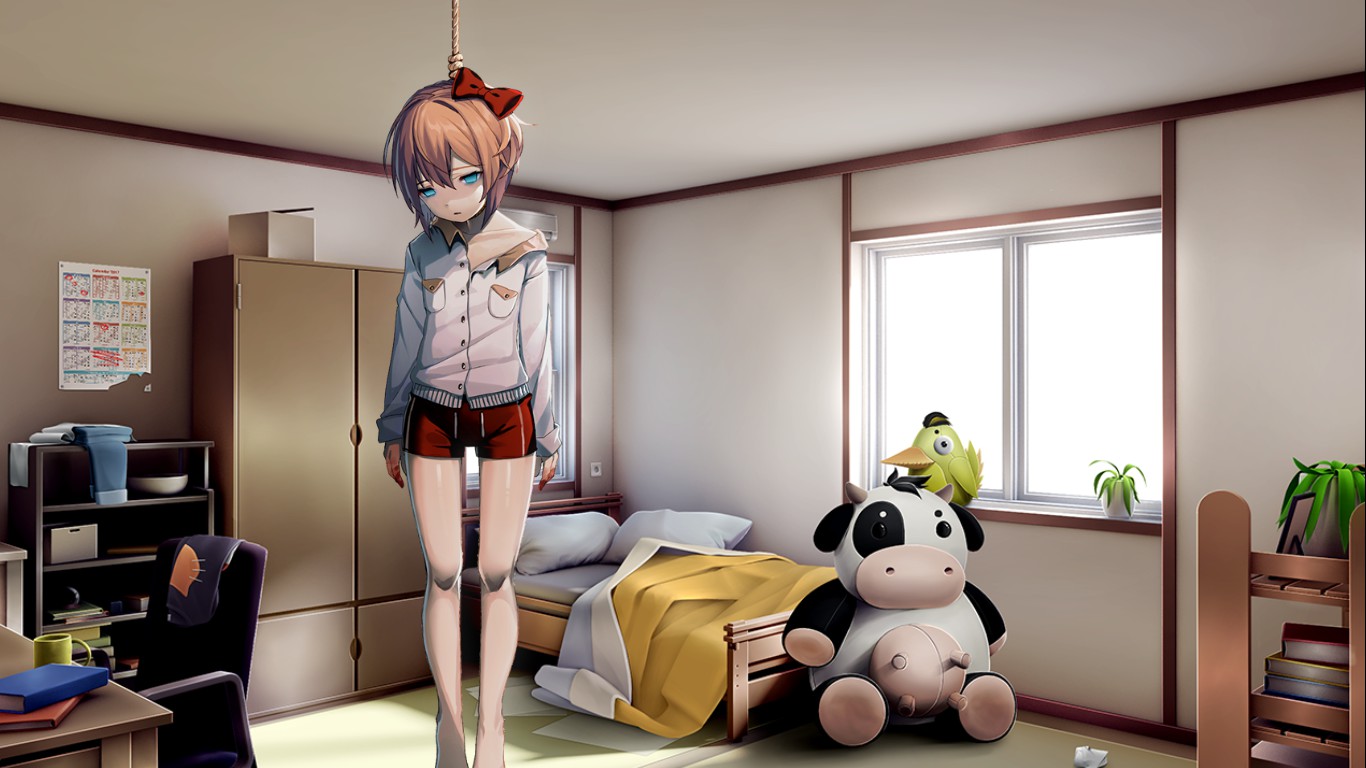 The game takes you on an emotional roller coaster where you go from slice-of-life to Sayori hanging herself, then back to slice-of-life again.
The sudden emotional whiplash that Doki Doki Literature Club! gave players with Sayori's suicide is a major reason behind why its players look for ways to save Sayori. The problem? The game gives you no way to save Sayori before she hangs herself. It doesn't even give you the option to talk to Sayori, or Yuri, about her mental health issues.
But, canon content never stopped a fandom. Thanks to these Doki Doki Literature Club! mods, you can prevent Sayori's suicide, Team Salvato's story be damned.
The Good Ending
Nothing says "good ending" like a DDLC mod that's literally called "The Good Ending."
The Good Ending was released in 2018, and at three years old, this mod is one of DDLC's most detailed and well-loved mods. Made by Sam Capener, the mod lets players save pretty much all of the game's characters, apart from Monika.
To keep Sayori from hanging herself, just install the mod and start a new game where you cater your responses to Sayori. If you don't have these memorized, there are wikis and guides available that tell you which choices are for Sayori.
All you have to do is make sure you appeal to Sayori and use solemn or bittersweet words for the poem word-choice minigames. Make sure to exit the game before the part of Act 1 when you discover Sayori hanging in her room and log in again. This should allow you to proceed in the game without Sayori's death scene.
MC's Revenge
MC's Revenge is a DDLC mod released in 2019 that gives your main character the same meta-awareness that Monika has. By carefully picking dialogue options that help your character on their path to realizing they're in a video game, you can give the main character the power to change the game's ending.
Yes, that means you can stop Sayori from hanging herself too.
The original creator of MC's Revenge, Reddit user u/Firelightning13, explained exactly what you need to do to get the good endings with Sayori. After a Redditor replied to a thread about MC Revenge's full release asking how to save Sayori, u/Firelighting13 revealed the awareness flag system he had built into the mod.
In the poem word-choice minigames, make sure you always pick Sayori's options. Picking Monika's words even just twice immediately locks your game to the "Just Monika" ending. By picking Sayori's words, your MC will have dreams about Sayori, creating an awareness flag.
Keep track of your awareness flags. You will need ten or more of these flags to secure Sayori's good ending. Trigger at least two dreams while having these flags and you're guaranteed to stop Sayori's unfortunate demise.
Though the mod's initial creator has since abandoned MC's Revenge, he did give another programmer permission to take over the project. As of 2021, a person who goes by Yujiri maintains the DDLC MC's Revenge mod.
You can find the mod on Yujiri's site here.
Doki Doki Salvation
Doki Doki Salvation is a DDLC mod made by Reddit user u/12Gizguy6 as a final adieu to the Doki Doki Literature Club! fandom. DD Salvation's creator has a very obvious soft spot for Sayori, given that the mod is heavily centered on saving her.
Though the previous mods give players to ability to stop Sayori from hanging herself, this mod is actively geared towards enabling the main character to talk to Sayori specifically, providing her with much-needed emotional support, and getting her the mental healthcare she needs.
It's a well-loved mod that's been acclaimed by fans for its high-quality art, great writing, and if you're the type who can notice it, good coding. Fans of Sayori will be absolutely thrilled with th unique ending you can get with the Doki Doki Salvation mod: having Sayori as your main character's girlfriend.
DDLC Purist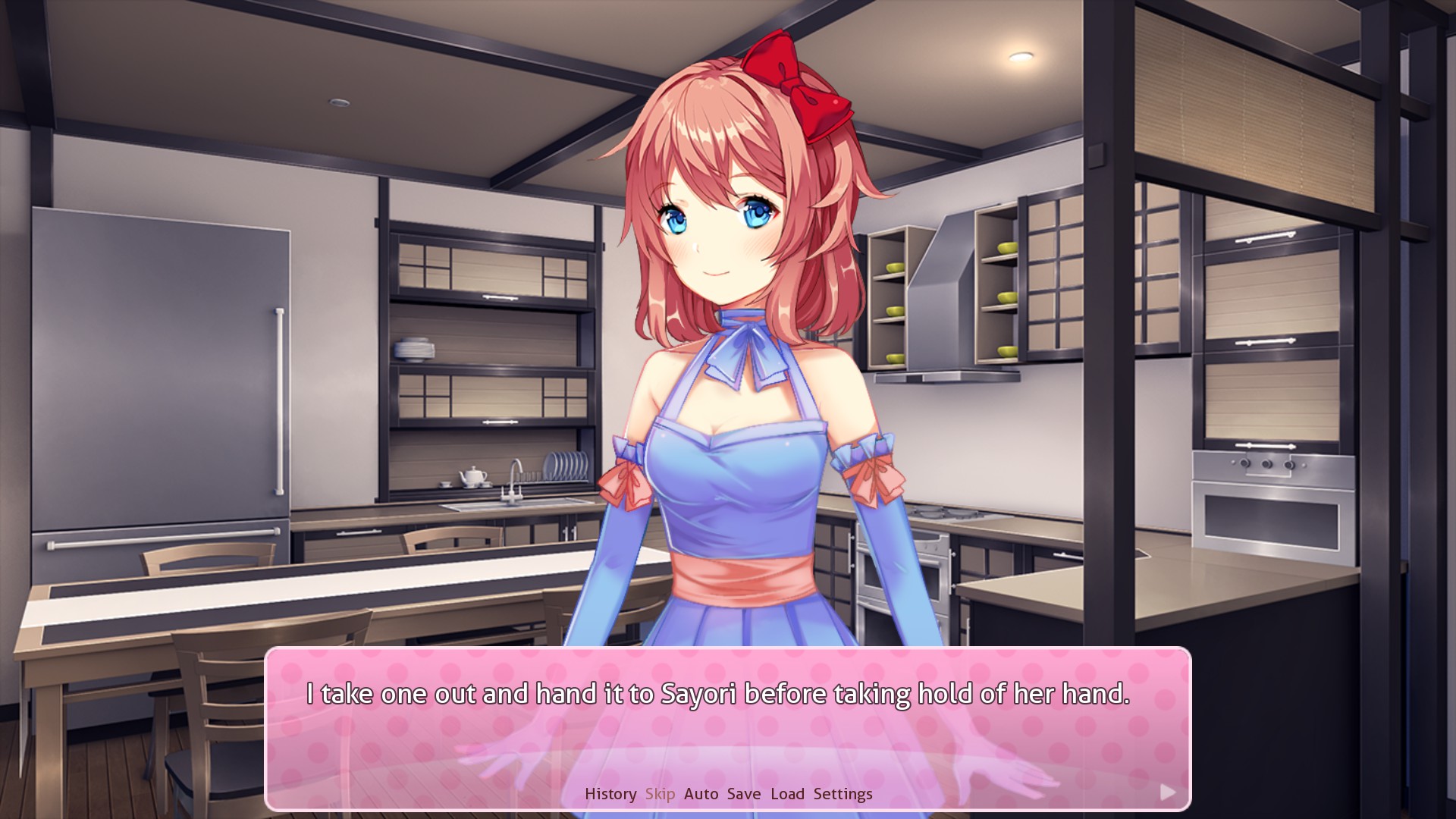 DDLC Purist mod gives you the chance to save Sayori by doing away with the horror elements altogether. As you can probably infer from its name, the Purist mod turns Doki Doki Literature Club! into a traditional dating sim-style visual novel.
The Purist mod adds a whopping 11 extra hours of gameplay to the base game. Each of these hours is dedicated to giving you a full-length story route with Sayori, Yuri, Monika, and Natsuki.
With the Purist mod, you get to address Sayori's depression and suicidal thoughts instead of having the original scene where you find Sayori hanging in her room. The new replacement scene is nothing short of fluffy and sweet as your main character gives Sayori a hug while she cries.
Once Sayori calms down, you reassure her that you understand that her depression is real and is more than just sadness. But, you also let Sayori know you'll be there for her.
It's a very well-written, tasteful, and accurate take on depression that addresses Sayori's suicidal ideation without invalidating her experiences.
Longer Roads
Created by Reddit user u/tr00pertayl0r90, the Longer Roads mod lets your character stop Sayori from hanging herself through the power of love.
Though it's a very sweet sentiment and the mod itself is well-made, especially considering that it's the creator's first mod, it takes a simplistic view of Sayori's mental health problems. The way the Longer Roads mod handles depression and suicidal ideation is idealistically ignorant at best and actively destructive at worst.
Just to give you an idea of how badly handled the Sayori route is, digest this little tidbit of information: the Longer Roads mod actually punishes you for taking Sayori to a psychiatrist.
Choosing to bring Sayori to a trained mental health professional results in the mod's bad ending where, you guessed it, Sayori dies. Granted, Sayori doesn't hang herself in this one, but instead shakes things up by overdosing on anti-depressants.
Yeah, this ain't it, chief.
But if trying to romance someone out of chemical depression isn't the way to go, then how do you save Sayori? And by that, I don't mean in-game Sayori, but the people like Sayori in real life – your friends and people around you who are dealing with untreated mental health problems?
Save a Sayori Today (And For Real This Time)
The tough part about depression and suicide is that the so-called signs of depression can only help to an extent. While they give you an idea of what to look out for, the reality of depression is that depressed people can appear perfectly fine. They may not even be the type of people you'd imagine would consider suicide, either because of their cheerful personalities or appearance of mental fortitude.
But everyone has feelings and even the toughest and peppiest of us can fall prey to the clutches of depression.
When this happens, it's important to be kind and supportive in the right way. The type of support that simply tells people with depression to grit their teeth and hope for a brighter day rarely gets good results. Though well-intentioned, this type of response is inherently dismissive of their struggles. It reaffirms thought patterns that tell them no one cares, encouraging them to hide their depression.
Instead, practice compassion.
"Compassion" literally means "to suffer together" and while I'm not saying you should be depressed as well, this just means empathetic listening is required for you to understand someone else's struggle as if it were your own. It helps those with depression feel more secure about sharing their feelings because somebody understands on a deep level. By creating a secure environment for them, it becomes easier to coax people with depression to seek help from a trained mental health professional.
If you or anyone you know is in need of someone to talk to, you can call these numbers for psychological first aid.